Obscure Glass Options
M.J Windows is committed to create glass that fortifies the natural insulating qualities of Vinyl. With frequently tested technologies, we're able to produce windows that minimize heat loss and eliminate infiltration of air, noise and moisture, regardless of climate.
Some of the popular special glass options:
| | |
| --- | --- |
| ARCTIC GLASS | DELTA GLASS |
| GLUECHIP GLASS | OBSCURE-PINHEAD |
| AUTUMN GLASS | CLEAR FROSTED |
| RAIN GLASS | SEEDY GLASS |
| CROSS REEDED GLASS | REEDED GLASS |
| WIRED GLASS | |
Custom Color
Vinyl comes in white and beige (standard color) and any other color is considered as custom color. Please be aware (of) that along with up-charges, custom color jobs require an additional three to four week period.
Here is a list of in-stock colors.
NOTE: Colors may look different on different monitors.

BLACK
45150

POLO CHARCOAL
45029

DARK BROWN
55758

RIDEAU BROWN
55744

RAPTURE BURGUNDY
90224

COFFEE BROWN
55943

ROCK BROWN
55382

ADOBE BROWN
55103

DINNER PARTY RED
90265

RIVIERA BLUE
60502

SLATE BLUE
600031

GLOW GREY
30593

MINK BEIGE
20752

MIKADO IVORY
20158

STRAND IVORY
20288

SAND BROWN
56128

DENALI GREEN
70787

IRISH GREEN
70522

SPRUCE GREEN
70659

KENDALL CHARCOAL
30321
Grids & Muntin Bars
In-glass Muntin Bars (MB) Available In: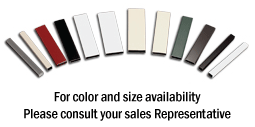 5/16 MB: White, Beige, Gray, Black
5/8 MB: White, Beige, Gray, Black, Hunter Green, Redwood, Brown
13/16 MB: White or Beige
1" MB: White or Beige
3/4" contour grill bar: White, Beige, Black, Brown
1" contour grill bar: White, Beige, Black, Redwood, Brown